When visiting Paris, one always has a list of not-to –be -missed sights and landmarks and it is easy to forget that the real luxury of this city is to take the time to slow down, to wander aimlessly, and let the impressive architecture and the spectacular views surprise one.  The magical bridges and the banks of the seine river are cases in point, where one can relax, go for a leisurely stroll, snap some great photos, picnic or even swim (oh yes…) Where? How? Follow our guided tour.
Romantic photo shoots
The Pont Alexandre III (Métro Invalides) is a majestic bridge with gilded statues and royal flair. It is situated near the calm neighborhood of Invalides and Ecole Militaire and is hardly ever crowded. Strikingly romantic it is often chosen by lovers and newlyweds for wedding-day photo shoots… crossing the bridge from the Invalides, you will arrive on the right bank, at the foot of the Petit and Grand Palais. The perfect starting point for a visit to a museum or exhibition.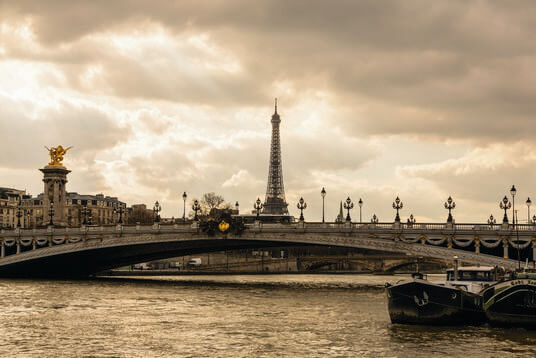 Picnics
The Pont des Arts (Métro Louvre-Rivoli): A checkered tablecloth, a plate of cheese, fruit and a bottle of wine: and voila you are comfortably ensconced on the teak wood bridge like a real Parisian. Besides its picturesque wooden beams, the Latin Quarter is just nearby, what more can one ask for? Simple pleasures are the most priceless… however try to come early in nice weather when places become scarce.
The Quai des Célestins (Métros Pont-Marie et Sully-Morland) is also very central and offers some very nice spots for an improvised feast by the banks of the Seine. The canal de l'Ourcq (Métros Ourcq ou Crimée) is more remote, great for a breather, however, with its large green pathways. There are even wooden picnic tables!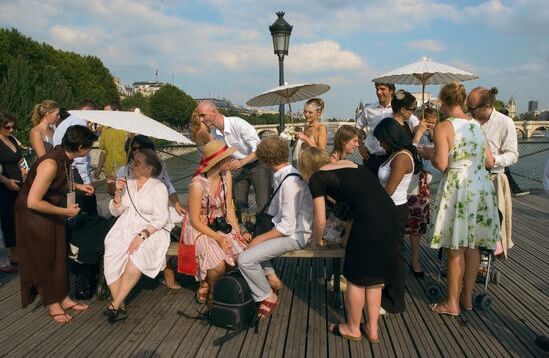 Get a tan and go for a swim at the Josephine Baker swimming pool:
An unusual spot the Joséphine Baker swimming pool, opened in 2006, allows you to go for a swim while admiring Paris and neighboring houseboats… During the winter the covered pool is open for lap swimmers and in the summer, a section is uncovered and is equipped  with a 500 square foot solarium ! Who would think that one could get a tan in Paris?
Piscine Joséphine Baker, Quai François Mauriac, 75013 Paris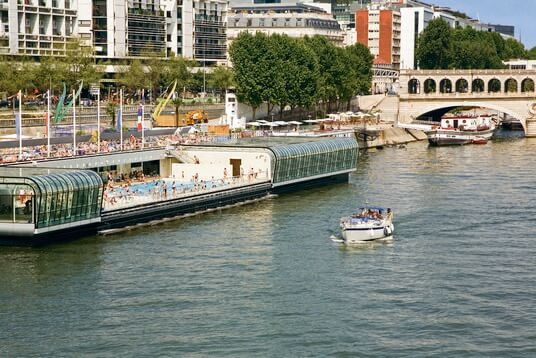 The calmest river banks of the Seine
Certain parts of the Seine are slightly remote, and are perfect for a calm stroll. The East of Paris, near the Pont Mirabeau, and the Pont de l'Alma, easily accessible by metro, and afford a superb view of the Eiffel tower minus the crowds.
Where to stay in the vicinity of the Seine river banks?
Young & Happy Latin Quarter
Not far from the Pont des Arts and in the middle of the Latin Quarter, you will discover that this cozy, friendly and festive hostel is right in keeping with the spirit of the neighborhood. Perfect for students traveling solo or in groups; you will find yourself right in the middle of the lively café/ bar scene and student life in Paris.
Young & Happy Youth Latin Quarter – 80, rue Mouffetard, 75005 Paris
Hotel Eiffel Rive Gauche
A few minutes by foot from the Pont de l'Alma and the Pont Alexandre III, in a more plush district, this is the place if you are looking for elegance and comfort for families and couples. Their excellent breakfast and wine and cheese tastings are remarkable (please note that they must be signed up for in advance).
Hôtel Eiffel Rive Gauche – 6, rue du Gros Caillou, 75007 Paris
---