It is no longer a secret that when the sun graces Paris with its long-awaited rays, inhabitants and tourists alike are filled with excitement and energy to go and do and (re)discover all that the city has to offer. And while a picnic in the park or a fresh drink on a café terrace are all perfectly fine and sure to please, why not take advantage of the lengthening daylight hours and the warmer evenings to experience something different this spring in Paris? Here are some fresh ideas for this spring 2018 from hiphophostels.
Refresh and renew with Paris Home Decoration Fair
If the advent of Spring fills you with a desire to re-decorate your interiors, this is the place to get ideas before embarking on any design adventures. With the Foire de Paris  you will be at the cutting edge of the season's inspirations and trends. This year gardens and the green attitude are the guests of honor with the Women's Garden Executive Club. This organization was created by professional women in the field of home decoration and gardening.  The stands are designed with the neophyte in mind, for the pleasure and relaxation informative workshops will be held on gardening methods and new techniques to bring out the green thumb in anyone.  As for creative endeavors, the D.I.Y stands have lots to offer adults and children alike. Take a tour of the tropics at the international section  to source objects from the Caribbean Indian and Pacific Ocean regions or simply explore via your taste buds at one of the take-out stands. Its best to start your visit early, from 10 am to noon to avoid the crowds. Tickets can be bought for reduced prices online.
April 27th – May 8th (from 10 am to 7 pm)
May 5th (from 10 am to 10 pm)
Metro: Porte de Versailles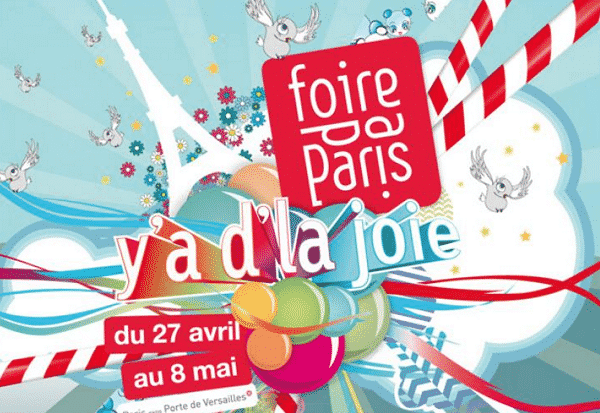 Horse-racing at its most daring at the Great Paris steeplechase
A fun way to spend a Sunday even if you know nothing about horse racing or don't bet on races. Since its inception in 1874, the great steeplechase has been drawing fans and the greatest jockeys alike to participate and admire high level obstacle races. Over 6,000 meters, 23 fences to be jumped over, that's a lot of jumping! Not the usual tourist destination, although speaking French is not a must to enjoy these first-rate races, activities for children as well. Ticket prices vary depending upon attractions.
May 19th, 20th
Hippodrome d'Auteil, bois de Boulogne – Metro: Porte d'Auteil, a free shuttle will drop you off at the entrance.
Keep your eye on the ball: the Roland Garros tennis matches
For tennis fans and sports fans alike the Roland Garros French Open is a great opportunity to bask in a sporting event on a large scale. With different matches and courts to choose from small tennis matches are less expensive, of course if you are a serious tennis fan and want to go to the finals, expect to pay more. Allow yourself to get carried away with the mood, as you hear fans cheering on the winners, and you can walk away with your tennis ball signed by your favorite pro and maybe even a great tan if the weather holds up.
Porte de d'Auteuil, from May 21st to June 10th
Cool off by the fountains in the gardens of Versailles
Starting from March 27th and through to October 30th 2018, you can enjoy musical fountain shows in the gardens and groves open for the occasion. On Saturday nights in the summer (from June 16th to September 15th, 2018 from 8:30 pm to 10:45 pm), a night show will be held with fireworks. The gardens, an impressive show case for the art of French horticulture, were also a technological feat for the seventeenth century, with the waterworks necessary to run the numerous intricate fountains. At the time, gardeners insured that each fountain would spring into action as the king, Louis XIV and his royal party would progress through the gardens. Now, of course, with the advent of modern plumbing, the fountains function simultaneously.   
After the musical fountain shows or before the night shows, musicians and dancers await you with baroque music in the magnificent hall of mirrors. While visitors of the château itself are recommended to plan their visits in the morning hours to avoid crowds in the popular rooms, a tour of just the gardens if the weather is fine is an enchanting way to discover history and enjoy spring flowers all at once.
Whether spring comes in at a gallop or the stately pomp of Louis XIV touring his gardens to the sound of troubadours, the whack of a ball, or a fresh coat of paint, at hiphophostels we are here to greet you, here's some ideal hostels and hotels to choose from if you are looking for a place to stay
A nice place to stay to take advantage of Paris in the spring
3 Ducks
The 3 Ducks Boutique Hostel & Bar is the second oldest private youth hostel in France. Since its creation, in 1987, thousands of travelers from around the world have enjoyed its friendly and animated atmosphere.
Arty Paris Porte de Versailles
The Arty Paris Porte de Versailles is an elegant boutique hostel that welcomes you in a warm and trendy atmosphere, in a charming area of Paris.
Aloha Hostel
The hostel owes its name to one of its founders who honeymooned in Hawaii. The newlyweds were enchanted by the paradise island and decided to call the hostel "Aloha" in memory of their trip. In Hawaiian, aloha means affection, love, compassion and mercy but also hello as well as goodbye. True to its name, the hostel has remained as welcoming and warm as it was on the day of its opening.
---