Summer at last! Time to get out bathing suit and flip-flops. No need to head for the French Rivera however, if you are in the city of Paris for the summer holidays, you can enjoy all the city has to offer under the palm trees of the sea resort atmosphere of Paris Plage's 17th year.
New this summer 2018
Paris Plage has been transforming the river banks of the Seine into a beachcomber's haven for the delight of summer city dwellers since 2002. This year the fun has been prolonged into the first week of September largely due to the fact that more throughways bordering the seine have been closed off to traffic all year round.  Sand sand again this summer, more ecologically correct and less a nuisance for the neighbors, who will recall the earlier years when tons of sand were dumped onto the river banks thus earning the name: Paris "Plage". But relaxing as ever with lounge chairs, misters, swimming pools and many attractions and activities. Three sites this year to keep you dancing and picnicking, cocktail or crepe in hand from day to night, here's hiphophostels' guide to Paris Plage.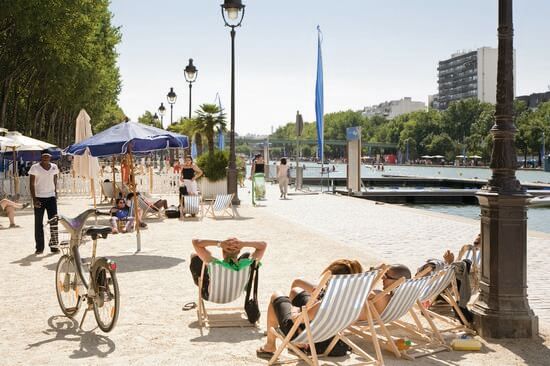 Water fun and archaeological digs at the Villette bassin.
The banks of the Villette in Paris 19th arrondissement have been transformed into a waterpark. Fresh water swimming pools for laps and a wading pool for kids. Water bikes, electric bumper boats and a super zip line spanning from one bank to the other are just some of the awaiting fun. 3 free natural swimming pools in the basin de la Villette open every day from 11am to 9pm: water will be quality controlled, changing rooms, showers. July 17th through September 2nd.
Bassin de la Villette – Quai de la Loire – 75019 Paris. Metro: Jaurès, Stalingrad
On the other side of the Villette river basin, a free miniature 9-hole golf course protected by the shade of the trees open every day from 1pm to 8pm. Foosball tables will be set up all along the seine.  This summer the activities have an archaeological theme. In partnership with the Louvre museum you can participate in the simulation of an archaeological dig, unearthing of and reconstitution of an ancient vase.
Bassin de la Villette – Quai de la Seine – 75019 Paris. Metro: Riquet, Crimée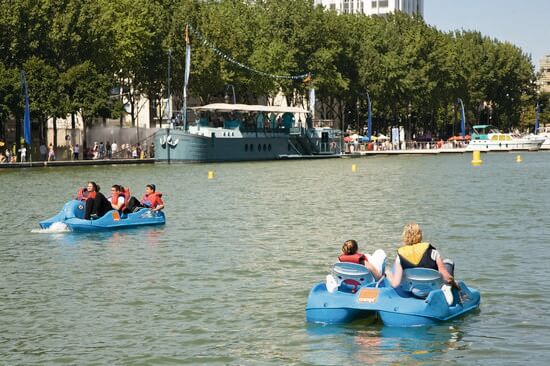 Refresh and Reset  in an idyllic setting
From Pont de Solferino on the left bank and from Pont Sully to the Pont Neuf on the right bank enjoy idyllic views of the Eiffel Tower, the Louvre and the Orsay museum from a lounge chair and a gentle maritime breeze.  
Brush up on your Tai-Chi or Tai-Do every morning at 10am at Pont Neuf and Sundays at 11am keep flexible with a yoga class. The pace quickens in the evening from 5pm to 8pm with dance lessons. All of these events are, of course, free. Board games for fun with your family and friends will be available as well.
Various pop-up restaurants and refreshments stands will make their appearances at all sites. And there are picnic benches and water fountains for improvised feasts with a riverside view without the cost!
Metro: Pont Neuf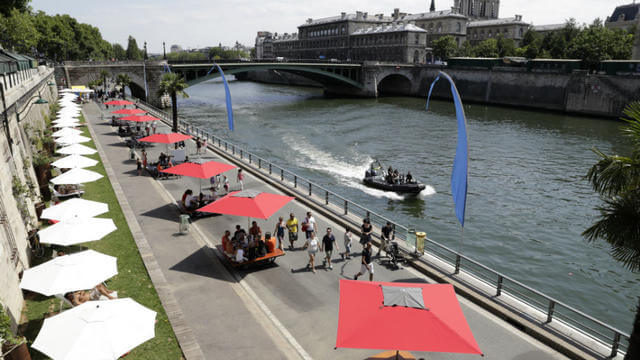 Getting ready for the 2024 Olympic games
The plaza in front of the Hotel de Ville, another spot for Paris Plages, will be the scene for athletic attractions and sporting events. A track has been installed where anyone can try their hand at athletics or even boxing and an open-air exhibit of what's in store for the 2024 Olympic games. Do you need any more convincing to spend your summer holiday in Paris by the sea?
Metro: Hôtel de Ville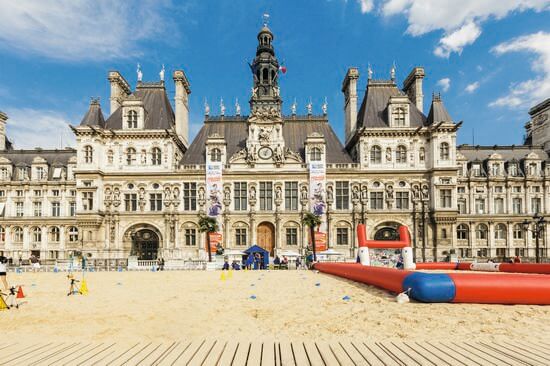 ---