The name Pigalle evokes the Moulin Rouge, debauchery, nightlife and the old parisians artist's haunts… this neighborhood which lies below the butte Montmartre, used to have a rather seamy reputation, has improved its image. Pigalle's old self-image still attracts lots of tourists, but has become greatly modernized. Trendy bars, delicious restaurants, shopping, there's more to Pigalle today than a few years ago. A little tour of the neighborhood.
Sulfurous Pigalle becomes the gentrified « So-Pi »
This is the neighborhood where the strip-tease was invented and still houses numerous cabarets. Plainly said, Pigalle is still the « red-light » district of Paris, with cabarets and numerous sex-shops. This being said, many of the stores have evolved into more mainstream and tame « love-stores » than the sleazy haunts of the 70's.
We can still see the Moulin Rouge, emblematic of the French cancan and Parisian moral freedom and a source of inspiration for many films, songs and other works of fiction, all lit up at night. However, card tables, cabarets and nightclubs, have generally given way to concept stores, arty venues, and trendy restaurants. This renaissance has earned the quarter of Pigalle the nickname "So-Pi" for South Pigalle, or the Parisian version of Soho, New York. But let's return to our tour of Pigalle.
Restaurants: the Parisian brasseries are back
If you like Italian food, you will find a plethora of trendy restaurants in Pigalle. A few steps from the butte Montmartre, rue de Douai, is the place to be. There is quite a choice but to name one, the group of restaurants Big Mamma just opened Pink Mamma, an immense four-story palace of Italian gastronomy a few months ago. A menu which changes every month, to delight the taste buds, produce imported directly from Tuscany, fresh burrata and at reasonable prices to top everything off. Go with your eyes closed but try to get there early as they don't accept reservations.
Pink Mamma, 20bis, rue de Douai, 75009 Paris
In a more traditional Parisian brasserie-style, where seating is « elbow to elbow », serving inexpensive French food and without reservations, try the Bouillon Pigalle.  Between 2 and 5 euros per serving, classic entrées like steak with french fries, chicken, brandade, tartars and other gratins) with their wines by the carafe, they are jostling to get in the door. Be there early to avoid the lines.
Le Bouillon Pigalle, 22, boulevard de Clichy, 75018 Paris
Pigalle, where to go for an evening out
Bars are plentiful in Pigalle and there is a variety to choose from. Rue Frochot, in the same neighborhood, is a good bet: the Dirty Dick has a selection of cocktails which will impress the finest connoisseurs.
To live the easy life in company of young Parisian jet setters, head for the Dépanneur (famous for its gourmet hamburgers) or the Mansart (festive atmosphere and foosball). It's a long cry from the cliché of Pigalle of yesteryear. All the better.
Dirty Dick, 10 rue Frochot, 75009 Paris
Le Mansart, 1, rue Mansart, 75009 Paris
Le Dépanneur, 27, rue Pierre Fontaine, 75009 Paris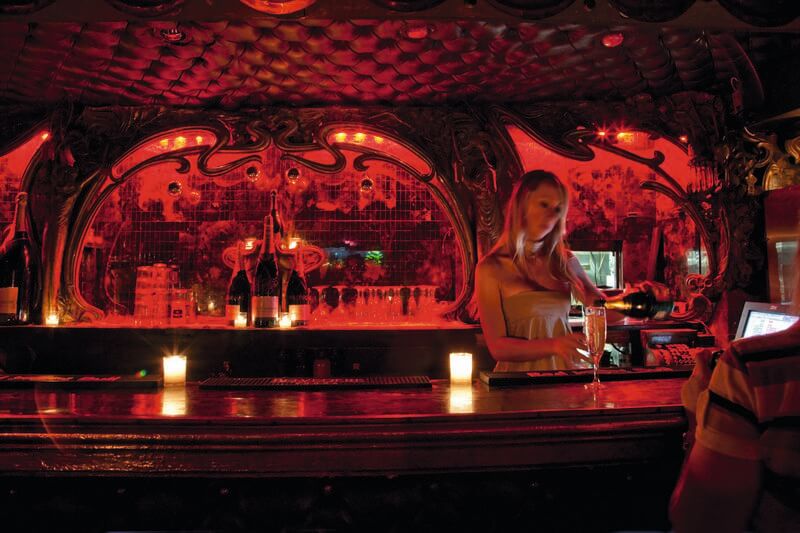 Where to find agreable and affordable lodging in the area of Pigalle?
If you want to stay in the hub of Pigalle's legendary neighborhood, here's our best addresses:
Le Regent Montmartre, 37, boulevard de Rochechouart, 75009 Paris
This hostel has become a hotel for quite some time. Redesigned in a fresh colorful palate, warm atmosphere and affordable, the Regent Montmartre has become the place to stay. Perfect for couples, families or a group of friends visiting Paris with its breathtaking views of Sacré-Cœur and practically located a few steps from the metro Anvers (Line 2).
Le Vintage Gare du Nord, 73, rue de Dunkerque, 75009 Paris
In the same lively neighborhood and well connected to public transportation, the Vintage Gare du Nord is quiet all the same. The renovated and well equipped rooms are perfect for groups of friends and the hotel also offers private rooms.  On the menu: a friendly welcome team, warm atmosphere, guitars and board games.
---