You've surely heard of hummus
A creamy, middle-eastern dish made from ground chickpeas, sesame seeds and lemon which is taking over the Paris food-scene. Why has this humble food become so popular?
Hummus is acclaimed by vegetarians and carnivores alike as a healthy, delicious, go-to aperitif. This trend imported from the middle-east has recently become a favorite with Parisians and numerous restaurants specializing in hummus have opened up in Paris. Different innovative versions of this dish are showing up accompanied by grilled vegetables, meat, fava beans, specialty breads. Here is our list of the best restaurants in Paris where you can enjoy this delicious and healthy crowd pleaser.
First stop: the Grands Boulevards
Yafo
Don't let appearances fool you in this little dive there lies a big chef who takes quality seriously. Israeli chef Lotan Lahmi, uses chick-peas with ease and in respect to tradition. Here Hummus comes in a variety of complementary flavors: hazelnut beet salad, fresh pitas, pickles. There are quite a few vegetarian and vegan options to choose from.
The finishing touch is a traditional coffee with cardamom whose strong flavor which will wake you up for the afternoon.
96, rue d'Hauteville – 75010 Paris
Levantine (Houmous Bar)
Nearby Saint-Martin canal, the Houmous Bar serves vegetarian specialties, as fresh as they are flavorful. This hummus restaurant started in 2018 by Karen and Jérémie, two young restaurateurs who are passionate about street food and who explored hummus in all its variations creating their own house recipe for their catering venue before opening their own restaurant.
On the menu; Plain Hummus, avocado hummus, mushroom hummus… Fresh salads, sweet potato fries and fried eggplant, innovative dishes with hummus revisited and served on colorful plates to complete the fun decorative style.
36, rue Bichat – 75010 Paris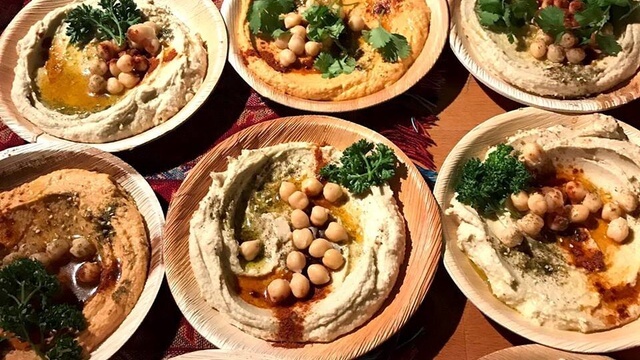 Chiche
« Chiche » a nickname for « pois-chiche » or chickpea, which, as its name clearly states, specializes in hummus. The lunch menu offers hummus with grilled button mushrooms and portobellos, spicy eggplant, with whole chick peas in the center.  We love the braised eggplant with sesame cream (tahini) and sprinkled with grilled pine nuts.
Fresh fare, reasonable prices, nice atmosphere, what more can you ask for?
29 bis, rue du Château d'Eau – 75010 Paris
At Saint-Paul, a vast choice as well!
Miznon
Hard to resist Mizon, upscale fast food with impeccable products. There is a certain magic which emanates from the gourmet creations of Israeli chef, Eyal Shani, who had already well-proven himself in London and Tel Aviv, before setting up shop in the Marais. A hustling and bustling place with lines to get through the door, and for a good reason; Miznon serves heavenly food to delight the palate. On the menu: hummus and falafel, of course, but also his famous cauliflower grilled with tahini, lamb pita, and oven-baked sweet potatoes sprinkled with handfuls of fresh herbs and spices just before serving. Everything is prepared before your eyes to whet your appetite and the cozy atmosphere completes the picture.
22, rue des Ecouffes – 75004 Paris,
Soumsoum
Vegan paradise in this small restaurant which offers not only hummus but also sabih, a Iraqi sandwich with tahini, fried eggplant and hard-cooked egg. It's fresh, delicious and filling.
15, rue des Ecouffes – 75004 Paris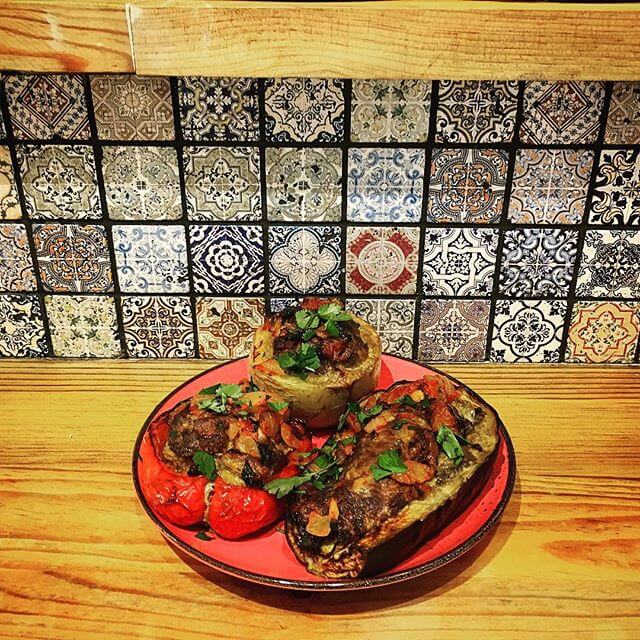 And if we haven't won you over to hummus already, one last reason to try it. Since hummus is healthy, you can indulge without feeling guilty!  And you? What are your favorite places to eat hummus in Paris?
---