Many cities are hosting their own marathons, and it's a much awaited for event for which hundreds of athletes prepare. The marathon that is held in Paris draws amateur and professional runners from all around the world; only one third of the participants are local! It's a festive athletic event which allows one to (re)discover Paris in a totally original manner.
This year, in 2018, the Paris marathon will take place the 8th of April and cross the entire capital. Here's a guide of the course it will be taking as well as preparation tips for fans and participants alike.
The Paris Marathon 2018: where, when and how?
42 kilometers (a little under 27 miles). 42nd year.
Hundreds of runners practice for weeks in view of this event and many come to Paris specifically to participate.
The 42nd marathon of Paris takes off at the Champs-Elysées and makes a loop of the capital Sunday April 8th, 2018. The runners will cross 5 arrondissements from west to east of the capital.  It is not too late to enroll!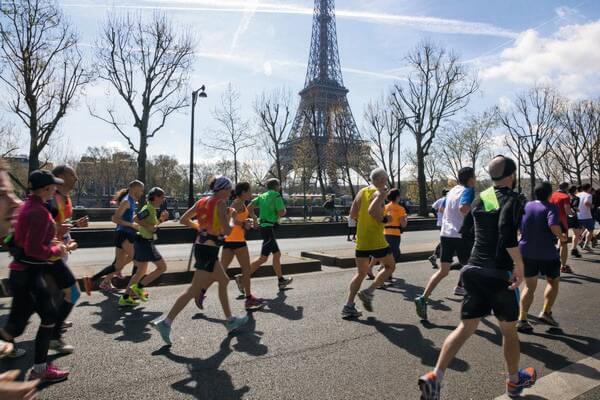 You can also run for a charity organization, « Restos de Cœur », a French soup kitchen, Unicef, « Rire Medecin » clowns in the hospital are some examples. A good way to promote a cause you care for at the same time that you exercise.
Insider tip; a few weeks before the marathon, the lists for enrollment are full, but if you are running with an organization you can still get your foot in the door… More information here.
Discover Paris as you run
The route laid out for the marathon is specifically designed to discover  Paris by foot. Whether your goal to run a race in the city of lights is athletic or touristic, it is an ideal opportunity because the city will be blocked off to traffic. Departure times are Between 8:05 am and 9:25 am and depending on your level and the estimated time of the race.
Access and route
Starting from the top of the Champs-Elysées, the race will take participants through some of the prettiest streets of the quarter, from place Charles de Gaulle to the Rond point des Champs-Elysées, continuing on to Place de la Concorde. The route will progress on to Bastille going through Marais and towards the  bois de Vincennes. From their the planned route will take you from the East of Paris towards the West towards the bois de Boulogne  : quai des Céléstins (where runners will have the opportunity to admire the Notre-Dame cathedral), then the Georges Pompidou thruway (with a magnificent panoramic view between the Louvre Museum and the majestic Musée d'Orsay). Then on towards Trocadéro and the Eiffel tower, finishing off with flair in the Bois de Boulogne (where you will catch sight of the Fondation Louis Vuitton) until avenue Foch, the finish line of the Paris marathon.
You aren't that athletically inclined?
You can still take part in the race by being a spectator (supporting your friends, family members or other runners from all over the world) or even as a volunteer! Around 3,000 volunteers join the marathon to help keep things running (no pun intended) smoothly, handing out jerseys and refreshments.
As many streets will be closed to traffic, it is also a great time just to go for a simple stroll through Paris in springtime.  There will be a small portion set aside specially for children as a great family activity.
Find a hotel or a place to stay with friends
Many runners take on the challenge of the marathon in company of friends.  If this is your case, here's our advice; choose a hotel or a youth hostel with a fun atmosphere and ideally located  in respect to the starting point of the marathon (at the top of the Champs-Elysées).
If you are looking for lively  atmosphere and want to meet people, here are two establishments which are near the metro line 2, which services  place de l'Etoile:
Le Régent Montmartre – 37 Boulevard de Rochechouart, 75009 Paris
A hotel situated at the foot of the « butte » Montmartre with a breathtaking view of Sacré-Cœur. Design and comfort await you with individual, double or shared rooms depending on your mood or your budget.
Smart Place Paris – 28, rue de Dunkerque, 75010 Paris
In a similar style near Sacré-Cœur, the Smart Place Paris, housed in a haussmannian building, offers individual up to quadruple rooms. A chilled atmosphere combined with design and all the comforts of a hotel, in a range of affordable prices.
If you prefer a traditional hotel, the network, hiphophostels also has what to offer you in Paris.
Hotel Eiffel Rive Gauche – 6, Rue du Gros-Caillou, 75007 Paris
Impeccable service, view of the Eiffel Tower, this hotel is an architectural gem. Let your imagination roam during your stay in the historical backdrop of this former convent.
Hotel Villa Garibaldi – 48, Boulevard Garibaldi 75015 Paris
Close to the Eiffel Tower as well, in the 7th arrondissement, the Villa Garibaldi Hotel offers a calm and serene setting for couples as well as for families. Wine and cheese tastings possible… A welcome reward after all that exercise!
---